What does a better economy look like for Northern Ireland?
Thursday, October 28, 2021 -

09:30

to

11:30
The legacy of the pandemic will have long-lasting, possibly irreversible, effects on the economy that the government will have to face over the coming years.  The most notable being paying for the immense increase in government spending on support packages offered.  The government deficit will increase to levels not seen since the Second World War, and with it the national debt. This will alter the complexion of the UK's public finances for decades to come. The pain of lockdown imposed to reduce mortality rates will mostly be felt by the young and economically insecure. There are likely to be calls for those who benefited most from the lockdown to contribute most to pay for it. What should economic recovery look like as we step forward?  Who should pay for the national debt? 
---
Chair: Neil Gibson, EY 
Neil is EY's Chief Economist in Ireland, providing insight and analysis to clients across all sectors. He is the lead author of EY's all island forecasting report, the Economic Eye, and is a regular media commentator. Current areas of focus including helping firms to better assess their true impact and measuring the impacts of both Brexit and the pandemic on the economy and wider society. Neil is a Visiting Professor at Ulster University, a member of the Minister's Economic Advisory Group in Northern Ireland and a 2014 Eisenhower Fellow. 
---
International Panellists
Prof Graeme Roy, University of Glasgow
Professor Graeme Roy is Dean of External Engagement in the College of Social Sciences at the University of Glasgow. He is a former Senior Civil Servant where he was Head of the First Minister of Scotland's Policy Unit. He is also a past Director of the Fraser of Allander Institute at the University of Strathclyde, an applied economics public policy research centre. He is a past adviser to the Scottish Parliament's Economy Committee and is currently a member of the Northern Ireland Executive's Economic Advisory Group and the Scottish Government's Advisory Council on Economic Transformation.
Dr Victoria Winckler, Bevan Foundation
Dr Victoria Winckler has been the Director of the Bevan Foundation since 2002, establishing it as Wales' most exciting and innovative think-tank. Victoria is also currently Wales adviser to the Joseph Rowntree Foundation.
Victoria is a leading contributor to public policy in Wales. In the 1990s she developed the proposals that secured EU Objective 1 status for West Wales and the Valleys, in the early 2000s she galvanised the Welsh Government's actions to tackle poverty and most recently generated robust proposals for new Welsh taxes which are now being taken forward by the Welsh Government.
Victoria frequently gives expert evidence to Assembly Committees, comments in online articles and speaks at a wide range of events. She is currently a member of the Ministerial Tax Advisory Group, and a board member of Traveline Cymru.
Victoria previously held roles at the Welsh Local Government Association, Mid Glamorgan County Council and Cardiff University and has served in public appointments and as a board member of several organisations.
Victoria holds a BA (Hons) in geography, MSc in Town Planning and a PhD.
---
Local Panellists
Sir David Sterling KCB 
A former Civil Servant, David was Permanent Secretary in the Department of Enterprise, Trade and Investment and the Department of Finance between 2009 and 2017. He became Head of the NICS in June 2017, retiring on 31 August 2020.  The devolved institutions were in suspension from the time of his appointment until the New Decade, New Approach deal in early January 2020.  As Head of the NICS he faced the challenge of delivering public services in the absence of ministers, preparing for Brexit, facilitating the resumption of devolved government, and helping the Executive deal with the initial wave of the Covid-19 Pandemic.
He is currently Chair of the Chief Executives' Forum and a board member of Ulster Wildlife, the Cancer Fund for Children, the Centre for Cross Border Studies and Women in Business NI.
Angela McGowan, CBI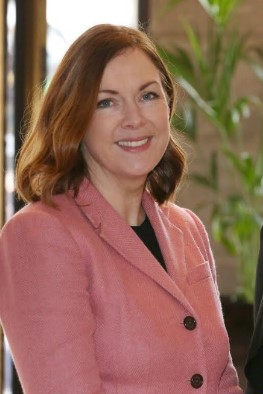 Angela joined the CBI in October 2016 as Director for Northern Ireland having previously worked for eight years as the Chief Economist for Danske Bank.   She has enjoyed a varied career as an economist in both the public and the private sector.  Angela has experience sitting on several boards including Vice Chair of Enterprise NI and Non-Executive Director of Young Enterprise.  She currently sits on the Northern Ireland Audit Office External Review Panel, she is a member of the Employer's Forum at Queen's University in Belfast, a member of the NI Skills Strategy Advisory Group and a Commissioner on Belfast City Council's Innovation and Inclusive Growth Commission.
Prof Cathy Gormley-Heenan, Independent Fiscal Commission NI
Professor Cathy Gormley-Heenan has worked in Higher Education for 24 years. Until May 2021, she was a Deputy Vice-Chancellor at Ulster University as well as Professor of Politics with research interests in public policy and governance. She has recently been appointed as a commissioner to the Independent Fiscal Commission for Northern Ireland to undertake a comprehensive review of the case for increasing fiscal powers available to the NI Assembly.
She is currently on the Board of Research England (UKRI), and has previously served as a Trustee, Director, Board Member or Advisor on a wide range of external bodies and organisations including Innovation Ulster Ltd; Catalyst Inc; Matrix - the Northern Ireland Science Industry Panel; Universities UK's International Research Development Network;  and the UK government's advisory body on EU Exit, Universities, Research and Innovation.
Cathy was awarded an OBE in 2020 for services to higher education in Northern Ireland. She is a Fellow of the Academy of Social Sciences (FAcSS), a Fellow of the UK Higher Education Academy (FHEA); and a Chartered Director.
---
Event Details
Date: Thursday 28 October 2021
Time: 9:30 AM - 11:30 AM